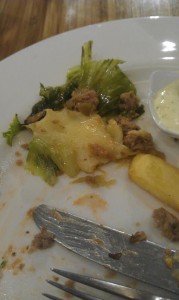 Vi skulle i biografen i MiraMar  og valgte derfor at spise i en af kæderestauranterne i centret. Vi har før kigget på Terra Sana, hvor de skulle lave sund mad.
De havde en enkelt burger på menuen og nu hvor vi har søgt efter gode burgersteder i Fuengirola, så tiltalte den mig. Beskrivelsen på menuen var meget indbydende, så jeg forventede en god burger. Kati bestilte en salat. Vi bestilte noget humus med brød til, til forret.
Burgeren var ikke nogen god oplevelse. Kødet var som det vi fik på The Food Company. Meget kedeligt, gammelt og uden smag og med plastikost på. Brødet, salat, tomat og pommes frites var ganske fint. Burgeren var absolut ikke pengene værd. Salaten var fin, men dog med lidt for meget dressing. Humus var ok, uden at være noget specielt.
Kigger man på prisen, så kan man absolut ikke anbefale stedet. Jeg fik to glas vin, som kostede over €3 per glas og Kati fik en flaske vand. Samlet kom vi af med €27.
Hvis man vil have en burger, så anbefaler jeg, at man går ind på Fosters Hollywood. Generelt, hvis man vil spise og drikke, anbefaler jeg et andet sted.
Terra Sana ligger i MiraMar centret.